For more information and latest news
please follow us on Facebook!


S5 OCT was new to Delaine Buses in October 1998.
S5 OCT was numbered 128 in the Delaine fleet, as one of 6 East Lancs bodied Long-Wheelbase Volvo Olympians new to the company. 116 (M1 OCT) is preserved as part of the Delaine Heritage Trust and was new with 86 seats, it is to be restored into the earlier livery with the block capitals logo and no route branding. 128 was new with 80 seats, with two rows removed upstairs and one seat removed downstairs in order to provide more leg-room, it will be restored into Delaine livery with the new (current) logo with the bar underline and will carry the early route branding for the 101 BOURNE - THE DEEPINGS - PETERBOROUGH with metal "The Delaine" fleetnames on the sides as it was when new.
128 was sold to Sleafordian Coaches in 2014 who painted it plain white with vinyl stripes and logos.
Three of the Olympians made it to Sleafordian, 127 (R4OCT), 128 (S5OCT) & 129 (T6OCT).
128 was the last Volvo Olympian in the Sleafordian fleet being withdrawn in July 2019.
The vehicle was successfully delivered to its new home in August 2019.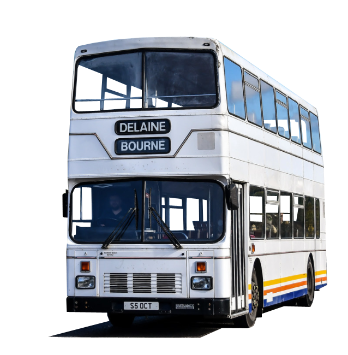 Operational - Awaiting Restoration
Vo OLY-56 YV3YNA417WC029128
Billy Edmiston & Nathan Merryweather