For more information and latest news
please follow us on Facebook!


LT52WTR was new to First London for their Centrewest operations as fleet number VTL1210 in October 2002. It was delivered in the Red, Yellow & White "Willowleaf" livery, with dual doors.

After life in London it was transferred to First Eastern Counties in 2010 and converted to Single door along with the fitting of Hanover LED destination blinds for use in Great Yarmouth and renumbered 32210 in the national fleet numbering system.

In Mid-2022, 32210 was the last of the batch still in use in Great Yarmouth and one of a very few vehicles in the FirstBus UK company to still carry the old "Willowleaf" livery. After clinging on to life for quite some time after others in the batch were scrapped it was eventually withdrawn after a gearbox failure in August 2022 and offered for sale to Eastern Bus Enthusiats member Terry Wilkins.

Terry purchased 32210 and it was recovered back to Cambridgeshire by Bus & Coach Repairs of Yaxley in January 2023 who fitted a replacement gearbox and put it through a fresh Class 6 M.O.T. Test.

Plans for the future and restoration are currently being decided.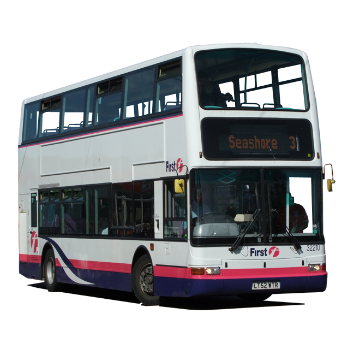 Operational - Awaiting Restoration
Vo B7TL YV3S2G5133A002323