For more information and latest news
please follow us on Facebook!


LEF60H is an Eastern Coach Works, dual door bodied Bristol RELL new to Hartlepool Transport in September 1970.
58 Bristol RE's were delivered to Hartlepool Transport many of which would have service lives of between 20 & 25 years, including No.60.
Hartlepool Transport fell to Stagecoach in December 1994 and a modernisation plan was soon to follow, meaning the impending withdrawal of the Bristol RE's. In 1996 Stagecoach announced the sale of the RE's and Nick Larkin was desperate to save No.60 and took out a bank loan to buy it which was slightly fraudulent in that when asked the reason for requiring funds he said "to go towards a conservatory".
To be fair, an RE is a subject with much glass! Thus £1,500 (including tyres and after a slight row, VAT), was handed over and No.60 was driven south via the Darlington Test centre. Sadly it failed but was later MoT'd by Northern Bus who had already acquired the only other RE to be sold from Hartlepool so far, GEF191N.


60 went on to attend Luton festival of transport, and Showbus. However, 60 & 28 (BEF28C) would go on to spend the next 25 years stored in a shed at Fowler's Travel near Spalding, Lincs.
In February 2020 both 28 & 60 were bought out of hibernation and driven to our new main base at Guyhirn, Cambs.
60 Made a return to the road in October 2020 for our Autumn Road Run, it has had much maintenance and is in fine fettle and a popular vehicle with our team and enthusiasts alike.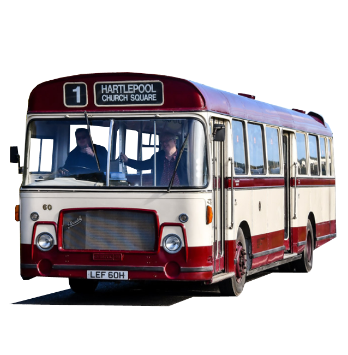 Awaiting Repair - Restored