For more information and latest news
please follow us on Facebook!


GEX740F was new to Great Yarmouth Transport in March 1968. Although the Atlantean was primarily and marketed as a double-deck chassis, several municipal operators specified single-deck bodywork during the late 1960s and early 1970s. One such vehicle was GEX740F, attractively painted in GYT Blue and Cream. It was bodied by Marshall of Cambridge and was one of three ordered by GYT in 1968.
40 was withdrawn in 1980 and acquired by the Great Yarmouth Atlantean Preservation Society and was shown at various events around East Anglia and beyond. In 1987 PK Commercials of Hunmanby, Scarborough purchased the vehicle and even used it for their Scarborough to Filey service on occasions.
In 1988 Jim Stones of Leigh purchased 40 for use as a heritage vehicle for events.

In 1991 Richard Davis on the Isle of Man bought 40 where it was to become an exhibit at the St Helens Bus Museum. During this time in 1994 the engine suffered a major failure and was removed to be replaced with another from Bournemouth PD3 (No.165). During Richard's ownership many many events were attended all over the country far and wide.
Clive Porter of Cambridge acquired 40 in 2000 and later sold to Norman Dawes & Brian Collins in October 2004.

Terry Wilkins purchased 40 in July 2010 and stored the vehicle at Hopton Timer Estate. During this time the vehicle was sadly the victim of a terrible vandal attack having nearly every window smashed.
Mark Judd & Nathan Merryweather came to the rescue in 2020 to save 40 from Hopton and recover it back to M. R. Judd Commercial's site in Guyhirn, Cambs. For restoration.

To date the fuel pump has been removed for refurbishment, the missing electrical panel and interior lights have been replaced and the windows have been acquired and awaiting fitting.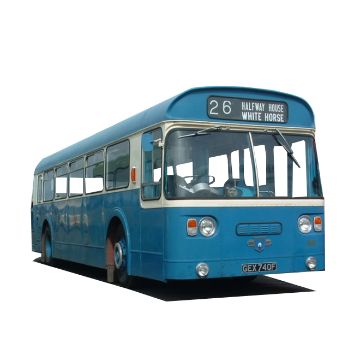 Stored - Undergoing Restoration
Terry Wilkins, Nathan Merryweather & Mark Judd