For more information and latest news
please follow us on Facebook!

GEX740F was new in March 1968 to Great Yarmouth Corporation as fleet number 40.
40 is a rare Marshall bodied single deck Leyland Atlantean, most Atlanteans were built as double deckers. It carried the company's traditional livery of Blue & Cream with a roundel crest on the sides. 40 was one of only three Marhshall single deck Atlanteans in 1968, the other two being 41 & 42 both also for GYC.
The three single deck Atlanteans didnt last long with the company compared to other vehicles in the fleet, the last leaving in 1988, with some of the AEC buses lasting into the late 1990s!


After leaving Great Yarmouth, 40 subsequently passed to Great Yarmouth Preservation Society in 1980.
PK Historic Omnibus of Filey, North Yorkshire acquired 40 in 1986 followed by Jim Stones in 1988 and later Richard Davis on the Isle of Man in 1991. During it's time on the IoM, the engine was becoming tired and was replaced with another Leyland 0.600 engine from a Bournemouth corporation Leyland Titan PD2 in June 1995.

In 2000 the bus passed to Clive Porter of Cambridgeshire, followed by Brian Collins and Norman Dawes in 2004.

Purchased in 2010 by Terry Wilkins of Gorleston on sea, Gt. Yarmouth, the bus was parked at Hopton Timber estate where it sadly became blocked in and subject to vandalism. In 2020 the site needed to be cleared for development and a deal was struck between Mark Judd & Nathan Merryweather with Terry for a 50% share in return for recovering the bus back to M.R. Judd Commercials of Guyhirn (EBE Base) and restoration back to road condition.
Now owned by the trio, the bus is progressing well with its restoration with all glass now on site ready for fitting as of 12/2020 and full interior clean up. The fuel pump is also undergoing refurbishment. It is hoped to have 40 back on the road during 2021.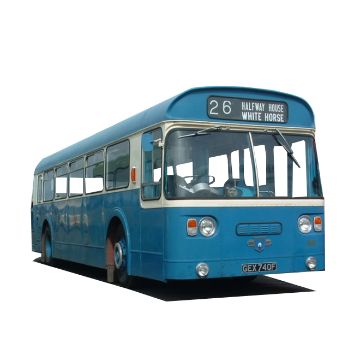 Leyland Atlantean PDR1/1A
Stored - Under Restoration
Nathan Merryweather, Mark Judd & Terry Wilkins
Great Yarmouth Corporation