For more information and latest news
please follow us on Facebook!


G661WMD was new to Leaside Buses in 1989 as TPL1 carrying their white livery with red fleet branding, along with sister vehicle G662WMD, TPL2. Both Tigers were the final Leyland Tiger chassis to be fitted with Leyland's own TL11 engine being discontinued in favour of the Cummins L10. In 1995 Leaside Buses was sold to the Cowie group, becoming Cowie Leaside, and later Arriva in 1998.
TPL1 lasted into Arriva ownership for a time before being sold to Village Coaches in 2004.
In 2011 John Wilks purchased TPL1 for preservation in 2011 and was restored into ficticious Grey-Green livery for whom John had worked. Grey-Green had never operated the Leyland Tigers with Paramount 3200 bodywork, although having had one on demonstration from Leyland, they opted for the increasingly popular Volvo B10M chassis with Paramount bodies.
John decided to paint G661WMD into Grey-Green livery as he was a fan of the Tigers and wanted to represent what could have been had Tiger have been chosen over the B10M.
In 2016, Nathan Merryweather acquired G661WMD for continued preservation in order to save it from the scrap man after John had lost his storage. It was operated by EBE for a couple of years including BusFest & Isle of Wight beer & Buses, before being sold to Blackburn based preservationists in 2018 to make way for more local vehicles in the collection.
As of October 2021 the threat of scrap arose again when the owner of the land where the coach was park seized it in lieu of rent, however thanks to our swift action 661 was saved by EBE member Neil Rudolfo and is undergoing work to get it back into full health.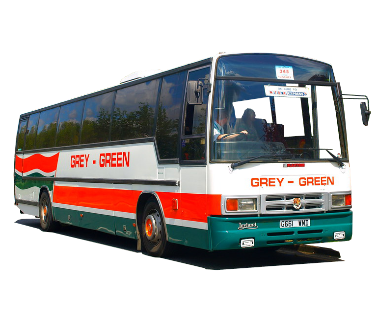 Awaiting Repair - Restored