For more information and latest news
please follow us on Facebook!

BKE861T was new in July 1979 to Maidstone & District Motor Services as fleet number 5861, it was new to the National Bus Company in leaf green with a white band between the top and bottom decks.
It was one of a batch of 16, of which it is the penultimate one of the batch.
Built as a 45 standard closed top bus, 5861 spent its first four years at Maidstone before passing to Hastings & District in May 1983. During 1989 this bus was involved in a collision with a low bridge and was subsequently converted to open top. With little use for an Open-Top bus it was sold to Guide Friday for use on the York Sightseeing tour in November of that year.
From then on it was used mainly for open top sight-seeing tours of York City as well as private hires and weddings.
By 2002 Guide Friday York had become part of the TopLine brand, and continued in its current role for that company until withdrawn in 2004 when TopLine was sold to Veolia Transdev.
Now with Bennett of Kilwinning 5861 was painted blue and white before suffering an engine malfunction and was subsequently sold to Judd's Travel in Cambridgeshire for spares. Being impressed with the overall condition of the bus and wanting an open-topper, Mark decided to have the vehicle refurbished using the many other scrap VR's for parts and being painted in fleet livery for use at bus rallies, festivals and private hires such as School Proms & Weddings etc.
Since the company ceased trading it has been retained and preserved by Mark Judd for use at Bus & Coach events.
It has always been the 'pet' of mechanic Craig Hallam who lovingly cares for this vehicle and keeps it in immaculate condition inside and out.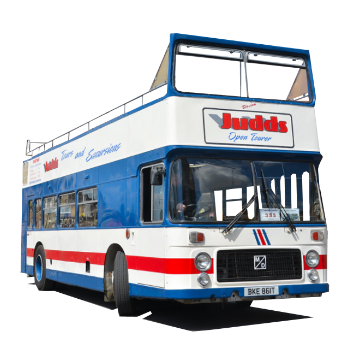 Eastern Coachworks (Open Top)
Bl VRT/SL3/6LXB VRT/SL3/1902