For more information and latest news
please follow us on Facebook!

BAR103X was new on 1st March 1982 to Hedingham Omnibus as fleet number L103.
L103 is a Plaxton Bustler bodied Leyland Leopard and carried the company's traditional livery of Red & Cream initially with gold fleetnames in lower case all round, later in cream with block capitals on the front and lowercase on the sides.
From Hedingham L103 passed to Fowler's Coaches of Holbech Drover for school work. L103 was sold again to Embling's of Guyhirn Cambridgeshire still carrying the de-branded Hedingham Livery.
During one of the popular Fenland BusFest events in Whittlesey during 2013, L103 became the first and only Leyland Leopard to ever operate the 701 service from Coates - Whittlesey - Peterborough as a commercial service.
Mark Judd purchased L103 from the company when it ceased trading in July 2015. He plans to restore L103 into full Hedingham livery and has already spent much time and money on restoring the engine after a troublesome failure in 2013. Restoration was completed in May 2022 and debuted as a surprise to the public at BusFest in Whittlesey.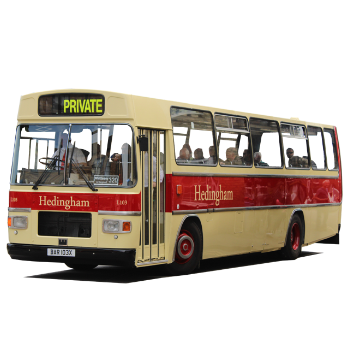 Hedingham & District Omnibus