For more information and latest news
please follow us on Facebook!

AUD460R was new on 24th January 1977 to City of Oxford Motor Services as fleet number 460, it was new to the National Bus Company in Poppy Red with a white band between the top and bottom decks.
AUD460R is an ultra low height Bristol VR of 13' 5" that was new to Oxford South Midland. It carried a fabulous 'unibus' advert for Wadworth beers in the 1980s whilst in the NBC Poppy red livery.
From Oxford 460 passed to South Midland in June 1984, and to Thames Transit in 1988 followed by Carters Coaches.
460 was sold to Ford of Althorne in July 1990 and became their No.20 in the fleet. She was painted in a Red & Gold livery and served for 15 years before being sold again to Emblings of Guyhirn Cambridgeshire along with XNV882S, 460 was named Deirdre.
460 Was sold again in 2013 from Emblings to one of the Directors, Mark Judd of sister company Judds Travel for preservation. Mark Purchased 460 not only as he is a huge fan of the VRT but also because it was the allocated vehicle for his late sister Terri Embling. Mark plans to restore 460 into the Judds/Emblings livery and rename "Terri" in memory of his sister.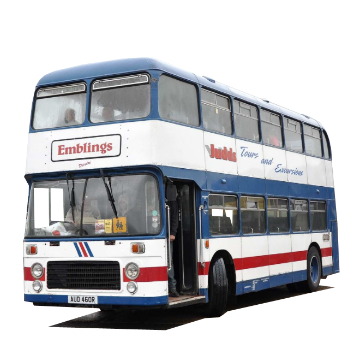 Stored - Awaiting Restoration
Bl VRT/SL3/6LXB VRT/SL3/648