For more information and latest news
please follow us on Facebook!


Cavalier took over the Huntingdon & District operation when Blazefield Holdings decided to concentrate on it's Yorkshire operations in 2003, and AE51VFX was used on various Cambridgeshire routes. Huntingdon & District had been the local depot of United Counties. Stagecoach had been forced to sell this and the Milton Keynes based network under an Office of Fair Trading arrangement after taking over Cambus Holdings in 1995.
Both initially passed to Julian Peddle, who branded the Huntingdon operations as Premier Buses, and it passed to Blazefield in June 1997. Stagecoach bought Cavalier Travel, which retained the Huntingdon & District name and livery in March 2008.
AE51VFX was employed on various duties with Stagecoach and was painted in red City Sightseeing livery for a regular service between Cambridge and the Imperial War Museum at Duxford. It later donned Stagecoach corporate livery and was eventually branded all over for promotion of the SmartCard MegaRider and was used across the Stagecoach East network including Peterborough before being transferred to Stagecoach South East.
The vehicle has now passed to us at Eastern Bus Enthusiasts after being kindly donated to us by Stagecoach.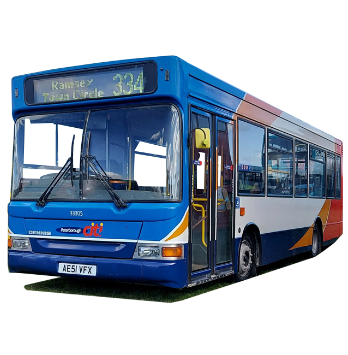 Operational - Under Restoration
Ds Dt SLF SFD612BR1YGW15431