For more information and latest news
please follow us on Facebook!


H303CAV was new to Whippet Coaches, then based in Fenstanton, on 8th October1990.
The Northern Counties bodied Volvo Citybus, the third such example purchased new, offered a seating capacity of 80, the coach-style seating being welcomed by passengers on short and long routes alike.
H303CAV was only the ninth new double decker purchased by the company and only one has followed since. Remaining in the fleet until January 2017 it was the last vehicle remaining that not only carried the popular stripes livery, but also the one after that too. In fact 303 (most recently WD418) carried no fewer than four and a half liveries, the most recent being a partial repaint to remove the cream in line with the rest of the fleet.
For a vehicle of its age in an increasingly modern fleet it was perhaps surprising that it wasn't confined only to school runs in its final years of operation. Indeed the vehicle still turned out from time-to-time on the 114 Cambridge-hospital circular.
Finally Whippet, under the ownership of Tower Transit, decided to withdraw the vehicle in December 2016, in part due to legislation changes making the step entrance largely obsolete. It passed to Chartwell (dealer) with several other double deckers but remained on site at Whippet's Swavesey depot awaiting a buyer. In January 2017 the vehicle was purchased and formed part of the Eastern Bus Group collection.
It is hoped to have the bus repainted into its original livery in the near future. In the meantime the bus was on the road for the 2017 rally season in its as withdrawn condition and then laid up until 2020 whilst bodywork repairs were carried out to the roof and underside.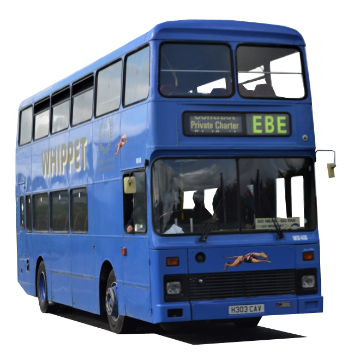 Operational - Under Restoration
Northern Counties Palatine
Vo B10M-50 YV31MGC16LA025183
Michael Brent, Stephen Longmire, Alex Cavanagh