For more information and latest news
please follow us on Facebook!


F509NJE was new to CamBus on 1st December 1988 as a batch of 12 Gardner engined, Northern Counties bodied, Leyland Olympians fitted with ZF Fully Automatic Gearboxes buses bought New before Cambus' Peterborough operation was re-branded as Viscount Buses in September 1989.
509 was re-numbered as B9 in the Viscount Buses fleet and carried three Liveries, CamBus 2-tone Blue & Cream, Viscount Yellow, & White followed by Classic Gold Radio all-over advert. On 6th December 1995, CamBus holdings was purchased by Stagecoach Holdings Plc. 509 went on to serve for Stagecoach Viscount in the new Stripes livery until 2000 when transferred to Stagecoach United Counties (Bedford) and later to Stagecoach in Cambridge (Stagecoach Cambus) in 2002.
On 22nd August 2006, F509NJE was sold to Tiger European in Nottingham where in 2010 it was Re-Registered as F74MRC and used on School Contracts & Light schools private hire.
On August 31st 2016, F509NJE was collected for preservation, re-united with original registration, by Stephen, Matt & Nathan for the Eastern Bus Enthusiasts collection.
Since purchase we have spent many hours and much money restoring 509. During the winter of 2016 we replaced the broken bright-tech destination blind with two Hanover units to replicate the original Vultron system. These Hanover units were not straight fit replacements, they required modification to fit.
In August 2017, we sent 509 to Marden Commercials in Essex for re-painting into Viscount Buses livery. It returned on 25th August and made its debut at Showbus on September 17th 2017. We are really happy with the results and are very proud to bring a Viscount liveried bus to the streets for the fist time in 20 years.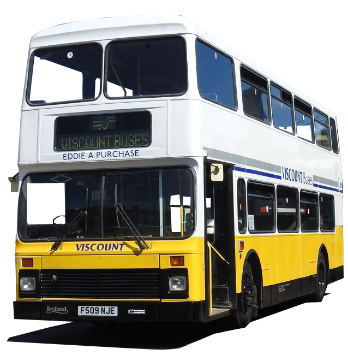 Awaiting Repair - Restored
Northern Counties Palatine