For more information and latest news
please follow us on Facebook!

This Leyland Leopard is one of only five that were bodied with the Plaxton Supreme 6. Although not quite as rare as the sole Bedford YMP to have this body (a little 45 seater), it is now believed to be a unique survivor of this body on this chassis type. What makes this vehicle even more unique is it's manual gearbox, most leopards having a Leyland Semi-Automatic box.
ABW82X, originally registered DFE361X, carries the attractive cream, green and red livery of Thomas Brothers of Llangadog with whom it ran at least from the mid-nineties. However, this belies its more recent history when it was operated by Osbourne International of Wem, Shrewsbury complete with Thomas Brothers fleetnames! The comments on Flickr of the photo used for this post suggest that when the photo was taken, the coach may have also been on hire to D & DH Coaches of Rugeley, being used by another operator Haywards. Certainly quite confusing, although demand for this coach was such that it remained in service until at least 2011.
It's believed that the coach also operated for Holloways and Skills and was new to Eagre in March 1982. It is currently awaiting its turn in the restoration queue.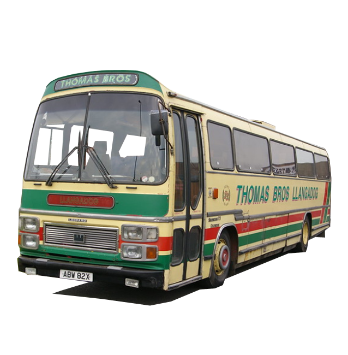 Stored - Awaiting Restoration
Mark Judd & Richard Osbourne